There's no one way to start a newsletter. You could just share a Google or Airtable form for people to sign up, and send them the newsletter via your email provider. That's the bootstrapped free way. If you are looking for a more sophisticated way, there are many newsletter tools that could help you accomplish that. We'll help you understand the landscape of the newsletter world, with a bit of info about each and every tool. Enjoy!
First step in starting a newsletter, is getting ideas and content. There are many tools that could help you gather your content:
Content curation for newsletter – tools
As we said before, there is no right way to do this. Try and see what works best for you.
Create an email account for your newsletter and send there each article/ idea you have. It's free, and works both from mobile and desktop. No matter where you are, you can just send it to the same inbox. It's a bit messy, as it's sorted by date, but you could probably spend some time and categorize and sort by issues or topics.
Notion. Notion is an answer to so many problems. You could use it as you wish. It has a mobile app and a web app, so synching is not a problem. You can format the page in many ways, and link between pages.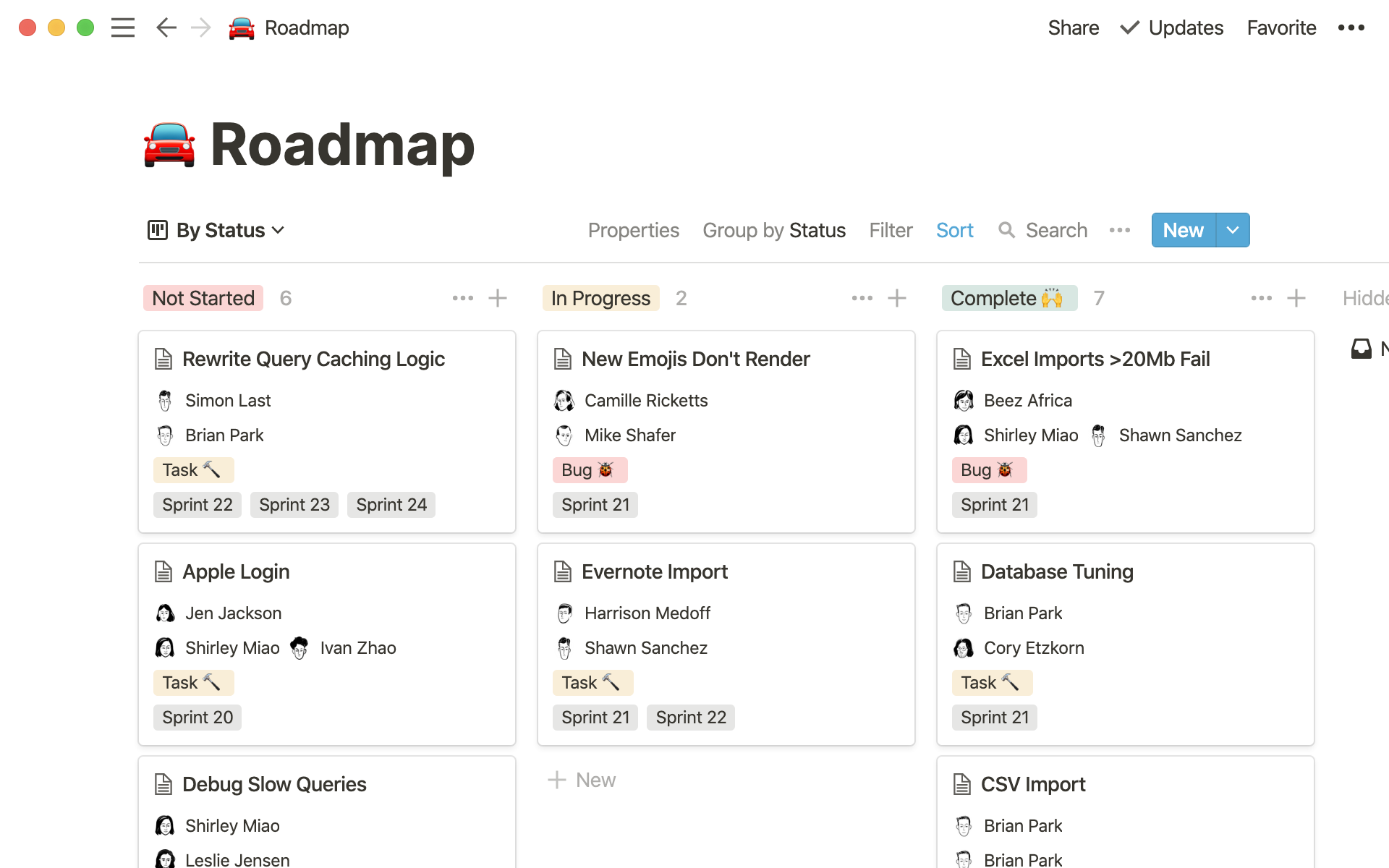 3. Mailbrew. Mailbrew is helping curate content from other newsletters, from Twitter accounts, Reddit, and much more. Then they send you all this content at a set time that you scheduled. It costs $8 per month.
4. Dropmark – Dropmark lets you save images, videos, and website links in a centralize place. They have a free plan that should be enough to get you starting.
5. Wakelet – With Wakelet you can save articles, links, tweets and more from your browser. They also have a mobile app.
6. Bookshlf – Bookshlf is a dedicated place that helps you collect and curate content (books, podcasts, articles, and more).
If you are working with an email distribution tool to send your newsletter, some of those will offer a browser extension that enables you to save links and text to curate for future need. We'll mention in the section below those that are also offering a curation feature.
Newsletter tools – distribution
There are many email marketing/ newsletter distribution tools out there. They offer different features, price plans and audience size limitations. If you are just starting out, try those with the free plan that lets you scale a bit with potential audience.
The best free plans out there are from EmailOctopus, ConvertKit, and MailerLite.
Substack is one of the most well known newsletter tools. They help independent newsletter creators publish their newsletter and get paid for members. With Substack you get your own mailing list, a website, and community features. It's less about marketing automation, and designing beautiful newsletters. It's all about publishing.
Free plan or free trial:

publishing is free forever as long as you do not charge your subscribers.

Pricing

: they take 10% on all paid subscribers.
GetResponse is offering a complete toolset for marketing and sales teams. The email marketing features are the ones that are relevant in our case. They have a powerful tool with professional templates, easy design tools,
and great deliverability.
You can use their segmentation and right timing tools to send the right content to the right person at the right time.
Free plan or free trial

: 30-day free trial.

Pricing

: the Basic plans starts from $15 per month for up to 1,000 subscribers. The next tiers are $25 for 2,500 subscribers, $45 for 5,000 subscribers, and $65 for 10,000 subscribers. For bigger audience, check out the rest of their plans.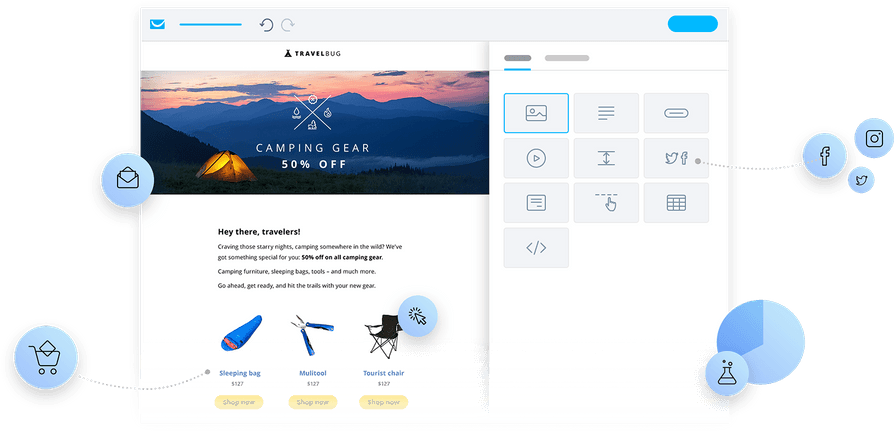 EmailOctopus seems like the most fitted newsletter tool for beginners. They have exactly and only what a newsletter creator needs. Features include integrations, automation, templates, segmentation, and forms.
Free plan or free trial:

the free plan comes with up to 10,000 emails per month and 2,500 subscribers. It's the most generous free plan out there.

Pricing

: the pro plan scales with you. It's starts from $20 per month for 5,000 subscribers and gets to $950 for 500,000 subscribers. There are of course many tiers in between.
With ActiveCampaign you can set up your newsletter in just a few clicks. They offer a drag-and-drop wizard. You can send different emails with segmentation and dynamic content. The reporting feature can help you learn more what works.
Free plan or free trial

: 14-day free trial.

Pricing

: the relevant plan, Lite, starts from $9 per month for 500 contacts, with unlimited sending. They have 9 more price tiers (up to 100,000 contacts for $405 per month).
Convertkit is a very popular tool for creators. They offer a newsletter tool, as well as a landing page builder. Recently they also added some eCommerce features.
With ConvertKit you can add a subscribe form to any page, personalize the content for your subscribers, design your email with templates or custom design, sell digital products, and automate the process.
Free plan or free trial:

free up to 1,000 subscribers. This plan comes with unlimited landing pages & forms, unlimited traffic, and custom domain.

Pricing

: the Creator plan starts from $29 per month for 1,000 subscribers, it has everything in the free plan plus automation and integrations. There are over 40 price tiers, starting from $49 for up to 3,000 and goes up to $3,999 for 900,000 subscribers.
Sendinblue has a few tools for digital marketers. The email marketing tool is the one that is relevant to you. You can design and edit the newsletter using their drag-and-drop editor. There's a possibility to start from a template or from scratch. Use A/B testing and their time optimization tool to send the newsletter at the right timing.
Free plan or free trial:

free for up to 300 emails per day (this plan does not come with the A/B testing and time optimization features).

Pricing

: the Lite plan starts from $25 per month for up to 10,000 emails and up to $99 for 100,000 emails , with no daily limits. There are price tiers in between. You'll have to add $12 for this plan if you want to use their advanced features (A/B testing, remove their logo, get campaign reporting). You can also add pre-paid email credits (pay as you go kind of plan).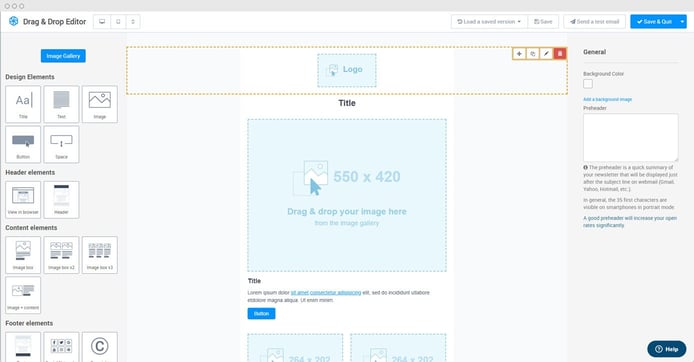 MailerLite helps you create newsletter fast with pre-built designs. You can personalize specific blocks by dynamically targeting those to different audiences (meaning certain sections will only be visible to specific subscribers). There's also a custom template feature that you can use to start from the same point with each issue.
Free plan or free trial:

free plan up to 1,000 subscribers and 12,000 emails per month. The free plan does not include free newsletter templates.

Pricing

: they have many price tiers. The first one starts at $10 per month for up to 1,000 subscribers and unlimited emails. Prices jump to $100 when you have 15,000-20,000 subscribers, and goes up to $1,915 per month for 580,000 to 600,000 subscribers. There are also add-ons like SitesPro ($10/month – publish websites/landing pages), MailerPro ($100/month – priority support), and DedicatedIP ($50/month – improve email deliverability, relevant if you're sending over 50,000 emails per month).
Revue is an editorial newsletter tool for writers and publishers. It lets you start monetizing your audience via subscriptions, sponsorships or affiliate programs.
Free plan or free trial:

free up to 50 subscribers.

Pricing

: $5 for up to 200 subscribers, $10 for up to 2,000 subscribers, and so on. There are 20 price tiers, and the most expensive one is $135 per month for over 35,000 and under 40,000 subscribers. Take into consideration that if you add monetization, they will also charge 6% transaction fee. All plans include a profile page, analytics, browser extension to help curate content, and scheduling features.
Iteretta is offering a unique pricing model in this newsletter tools ecosystem. They understand that you are not looking for an entire marketing automation tools, but just sending out your newsletter. Instead of paying for a bundle, you only pay for what you use. They also allow you to offer an ethical tracking – where your subscribers can choose if they want you to know if they opened the email or clicked on a link. In a growing discussion about user privacy, it's definitely a feature to consider.
Free plan or free trial

: as long as you send under 200 emails per issue, it's free.

Pricing

: as mentioned above, you only pay for what you use. Do notice that this is a price per issue, not per month, so compare this with other plans when you know how many emails you are going to send each month.
| AMOUNT | UNITS |
| --- | --- |
| $5 | 1,000 Emails |
| $15 | 5,000 Emails |
| $50 | 25,000 Emails |
| $100 | 100,000 Emails |
ButtonDown is a simple tool to create a newsletter. It's minimalist, but does have some power features like typos checking, broken links alert, paid subscribers, email scheduling, and analytics.
Free plan or free trial:

yes, up to 1,000 subscribers.

Pricing

: pay $5 per month for every thousand subscribers. If you want to add custom hosting domain, Zapier support, remove their labeling, and have multiple newsletters, it will cost you additional $29 per month.
Mailchimp is one of the more well known solutions for email marketing. They were founded in 2001. It's probably more than you need for a newsletter, but it's still a viable option.
Free plan or free trial:

yes, they do have a free plan that comes with up to 2,000 contacts (but only one audience segmentation). Their free plan also includes a website builder and forms & landing pages.

Pricing

: their next plan is starting at $9.99 per month (you'll need to calculate the final price based on the amount of contacts). The first price step is limited for 500 contacts and up to 10 emails per month. It also includes up to 3 audience segmentations, A/B testing, and multi-step journeys.
Ghost is a non profit organization that traditionally offered publishing capabilities. Today they also offer tools for newsletters. Their added value is that their pricing is steady, and you don't need to pay any transaction fees if you have paid members. Ghost lets you send emails as well as have a custom website to show your posts online.
Free plan or free trial

: 14 days free trial.

Pricing

: starting from $36 per month for up to 100k views per month, and 1,000 members.

Newsletter tools – referral & automation
Leveraging a word-of-mouth is a great strategy to help grow your audience. People are usually trusting their friend's recommendation much more than just any other marketing way. You should definitely think of providing an incentive to your audience to share the newsletter with their network. Here are two tools that can help you do it automatically:
GrowSurf is the easiest way to build a refer-a-friend program directly into your newsletter. They let you choose from 4 different referral types:
Single sided reward – when a subscribers refer a friend give the subscriber a reward.
Double sided reward – reward both parties (like Airbnb or Uber do).
Milestone reward – when your subscriber reach a certain milestone reward them (refer 3 friends and get a t-shirt).
Leaderboard reward – reward the top referrers.
Features:
Pricing: free up to 500 participants. Then you have 5 tiers – starts from $89 per month for up to 5,000 participants, and goes up to $999 for 300,000 participants.
SparkLoop recently announced that they will empower each ConverKit pro user with a referral program.
If you're not using ConvertKit, you can still use SparkLoop with MailChimp, MailerLite, and soon ActiveCampaign.
With SparkLoop you can include each subscriber's referral code in the newsletter, and trigger reward emails when relevant. You can choose from the following types: single reward, multiple reward tiers, or use recurring rewards. There's also a giveaway capability.
Pricing: there's no free plan, but you can get your money back if you are not satisfied. For $29 you get up to 3,000 subscribers and up to 100 referrals per month. For $49 you get up to 10,000 subscribers and 200 referrals per month. If you have more subscribers check out other tiers in their pricing page. All tiers come with unlimited rewards and giveaways.
Zapier – automation tool
Zapier is a no-code automation tool. What it means is that you can connect web applications and set a task that will happen when a trigger has occured. For example, you can set a flow where each time you have a new subscriber, you'll get notified on a Slack channel.
There are many tools you can get to work together using Zapier as the middleman.
Pricing: start for free with 100 tasks a month and under 5 automation processes. The $25 plan will get you 750 tasks per month with maximum of 20 Zaps (automation processes).
Misc newsletter tools
Publisher tool – Medium
Medium is a publishing hub. You can write articles and gain revenue if the Medium users read your article. While it's not recommended to use if you already have an audience, it's a great way to start and leverage Medium's audience (120 million readers).
You can use them to create branded emails, share a signup link anywhere online, and receive replies from readers.
Be minded that you won't get the email list of your readers. It's mainly to get your name out there so people could follow you on other media outlets.
Pricing: free. You get paid for how much time a reader spends on your article. If a reader spends 15% of their reading time on your article, you'll get 15% of the revenue share. Monthly reader subscription costs $5.
Newsletter monetization tools – MemberSpace
MemberSpace lets you turn any part of your website into members-only restricted view. As long as your newsletter also have a landing page/ website, you can add MemberSpace and charge for exclusive content. They offer payment flexibility (recurring/ multiple/ one time), unlimited members, and more.
Free plan or free trial:

14 days free trial.

Pricing

: there's only one plan – $25 per month + 4% transaction fee.
Design tool – Canva
Canva is a design tool that can help you start with a newsletter template. It's really easy to customize, and it's free to use. If you're going for the bootstrapped way – subscribing through a Google/Airtable form, and sending emails from your own email account – Canva can help you with the design of the email.
Free plan or free trial:

free plan that includes unlimited designs.

Pricing

: pro plan will cost around $10 per month and include additional videos, photos, elements, fonts, etc.
To avoid getting your newsletter in your subscriber spam folder, you might want to try and send Mail-tester your newsletter issue before. They test the quality of your newsletter by analyzing your message, email server, and sending IP address.
Pricing: free.
Conclusion – newsletter tools
Starting a newsletter can be very easy. Start with a tool that offers a free plan if you don't have a big audience yet. Work on creating quality content and on getting more subscribers at the same time.
Some tools are more relevant for creators or solo writers, and some are better suited for a publication company.
People are willing to pay for good quality content, so once you make a name for yourself, and build an audience, you can start to think about making some of your content available only to paid members. If you do go for it, take into consideration that it will slower your growth as less content is available and free.